Thematic Essay | Impressionism

Reconciling Art and Nature

By August Finch

December 5, 2008

In the end, there was little to reconcile, because Impressionism was a way to experience nature directly, an intuitive experience of colors, patterns, and sketches, at a moment in time.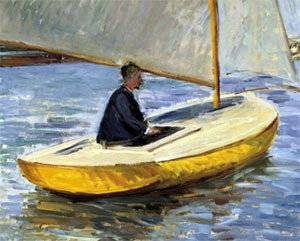 Le Bateau Jaune, 1891 -Gustave Caillebotte
The artistic complex of ideas, perceptions, and visual patterns that represented the dynamic between art and nature was an important compositional and poetical theme in the work produced by French Impressionism, between 1860 and 1890.
The meeting of art and nature was a way of seeing the simultaneity of time and space, and made it possible to experience nature directly.
For the Impressionist, time was a reflection in glass, a glimpse into an indefinable, fleeting, reality that suggested images of prior time along with images of the present moment. Time and spontaneity imbued paintings with the immediacy of occasion or the impression of time.
The Impressionists cultivated the first impression, interlaced, layered, and outlined it with colors, diffused shapes, sensuous filaments, and overlapping patterns.
For the Impressionist, there were only nuances between art and nature. The creative processes for both were similar, and there was a kind of divine transparency between them, a nonchalant arrangement, a coalescing of imaginative planes, primal colors, and instincts.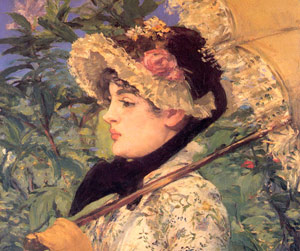 Le Parasol
In the end, there was little to reconcile, because Impressionism was a way of experiencing nature through a timeless and inexhaustible variety of shapes, patterns, and textures, contrasting and complementary brushstrokes, free-handed compositions, and crosscurrents of light.
The Impressionists loved the colors that seemed arbitrary or the opposite of what was expected, and longed to be folded into the abstractions and contours, which were recorded and preserved in the subtleties and complexities of human perception.
In the open air the senses were awakened, the separation between subject and object narrowed. Artists began to paint en plein air, helped along by the invention of a color palette of commercially mixed paints in tubes, pre-stretched canvases, and transportable easels.
The first impression made it possible to experience nature directly, the way a child experiences the world, spontaneously, as it is at that moment, and as it has always been, timeless and dramatic.