Musical Review | Berlioz

Benvenuto Cellini

By Nathan Auerbach

December 4, 2008

A performance of drama and comedy, the music develops complexity, contrasting brass and strings with orchestral voices. The finale is as brilliant as the music of Romeo et Juliette.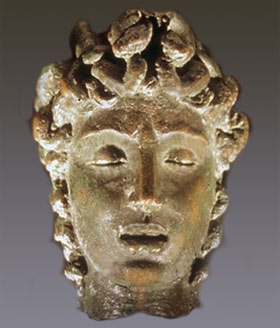 Head of Medusa c. 1545 -Benvenuto Cellini
Sir Colin Davis' original and lively interpretation of this technically demanding masterpiece by the French composer Hector Berlioz is exhilarating.
The opera is set in Rome during the celebration of Carnival, in 1532. It is an opèra comique, with somber undertones.
The muses of spring, wine, and frivolity, are here, along with the arrogant and determined Cellini, the scheming Balducci who tries to prevent Cellini from marrying his seventeen-year-old daughter Teresa, and Cellini's preposterous competitor Fieramosca, deception of the wealthy Balducci.
The character of Cellina is based on Benvenuto Cellini, an Italian Renaissance goldsmith and sculptor who had been commissioned by Pople Clement VII to cast a statue of Perseus.
This performance embodies both the myriad strands of this ancient scene and the power of the Berlioz music.
Commencing with the intuitive performance of the overture, as the drama and comedy unfolds, the music develops in complexity, contrasting the textures of the brass and strings with orchestral voices.
The finale is as brilliant as the music of Romeo et Juliette and yet there is an overlay of something never heard before.
Laura Claycomb's performance as Teresa, is valiant and remarkable. And lastly, it is Sir Colin Davis'conducting and the London Symphony Orchestra, which surely has the ability to draw the mind into this wonderful music.
Hector Berlioz: Benvenuto Cellini; Gregory Kunde as Benvenuto Cellini – Gregory Kunde, Teresa - Laura Claycomb, Balducci - Darren Jeffery, Fieramosca - Peter Coleman-Wright; London Symphony Chorus; London Symphony Orchestra; conducted by Sir Colin Davis.