Thematic Essay | Arts and Crafts Movement

Visions of Flora

By Nellie Ridell

January 7, 2009

His visualization of Flora in his poetry was of a magnificent woman who was partly human and partly spirit, a goddess of abundance and well-being...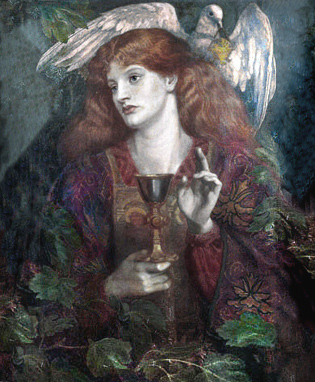 The Holy Grail -Dante Gabriel Rossetti (c1860)
The idea that handwork embodies the mythic patterns of dream, has been around since our ancestors designed beautiful clothing and decorative houses around natural recurring details, stylized movements, and complex colors that responded to the way they thought nature and vision actually interacted.
The images that made sense of the world were expressed in colors, textures, and motifs, like patterns in a dream, and interlaced into costume, bead design, textile weaving, ceramics, and jewelry. Throughout the origin and development of human cultural heritage, handwork has been a remarkable exposition of magic, mystery, and self-discovery.
More recently, handwork inspired the Arts and Crafts movement of the late 19th to early 20th centuries, and specifically the hand printed fabrics, hand-loomed textiles and tapestries, hand sewn clothing, woodblocked wallpapers, and handcrafted household utensils and furniture, designed and created by William Morris (1834-1896), the English artist and designer.
Morris was a visionary and an artist who did not separate his dreams from his art: "My work is the embodiment of dreams in one form or another." His visions of Flora, the goddess of flowers, revealed the interlacing of mythic patterns, colors, and motifs that inspired many aspects of ancient art and design.
His quest for Flora and the spirit of nature was inspired by an idyllic childhood in an English country village. Surrounded by harmonious gardens, medieval farmlands, and timeless old forests, Morris dreamed of a fairy woman whose body was intertwined with nature. He immersed himself in Arthurian legend, reading Sir Walter Scott's The Lady of the Lake:
Boon nature scatter'd, free and wild,
Each plant or flower, the mountain's child.
Here eglantine embalm'd the air,
Hawthorn and hazel mingled there;
The primrose pale and violet flower,
Found in each cliff a narrow bower;
Fox-glove and night-shade, side by side,
Emblems of punishment and pride,
Group'd their dark hues with every stain
The weather-beaten crags retain.
(From The Lady of the Lake –Sir Walter Scott, 1810)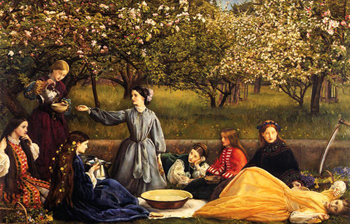 Apple Blossoms -Sir John Everett Millais (1859)
The dreamlike pattern of nature formed a poetic background for Morris' personalized mythology, and encouraged a sense of pre-existence, a magical or shamanic power, and inspired his lifelong aspiration for the courage of King Arthur. On long walks in Epping Forest, he recited poems such as Alfred Tennyson's The Lady of Shalott:
And by the moon the reaper weary,
Piling sheaves in uplands airy,
Listening, whispers, " 'Tis the fairy
The Lady of Shalott."
She knows not what the curse may be,
And so she weaveth steadily,
And little other care hath she,
The Lady of Shalott.
(From The Lady of Shalott –Alfred Tennyson, 1833)
In 1851, Morris attended the first world's fair, the Great Exhibition of the Works of Industry of All Nations, at the Crystal Palace in London. England was the center of the industrial world and the Exhibition was a festival of technology. There were 15,000 exhibits displayed under a glass and iron vaulted roof –power looms, cotton gins, printing presses, steam engines, centrifugal pumps, spinning mills, and locomotives.
Morris dismissed the exhibits as "wonderfully ugly"; however, the gemstones and clothing displayed at The Indian Court and Jewels, the hand-loomed Celtic tapestries at View in the West Nave, the porcelain and silk screens at The China Court, and the gold embroideries, hookahs, and camel saddles at The Turkish Court garnered his attention.
In 1853, as an architectural student at Oxford, Morris studied poetry, mythology, and the arts of ancient Egypt, India, Persia, and Byzantium. The art and social critic, John Ruskin, inspired him to rail against industrialism and the banality of machine-made products.
In The Poetry of Architecture, Ruskin wrote that nature and the laws that govern creation should not be subordinated to the industrial world as the result of a false notion of modern progress. Ruskin believed that architects should use materials in harmony with the natural surroundings and use local materials.
It was through Ruskin's letters to The Times that Morris discovered the Pre-Raphaelites, a group of English poets and painters, which included John Everett Millais, Dante Gabriel Rossetti, and William Holman Hunt. Ruskin had praised their devotion to nature and rejection of conventional methods of composition, and said that they might "lay the foundation of a school of art nobler than the world has seen for 300 years."
The intention of the Pre-Raphaelites was to transform art by rejecting the mechanistic style of artists who had followed Raphael and Michelangelo. They looked to the spiritual character of medieval art, its luminous color, careful detail, and romantic symbolism.
In Rossetti's first publicly displayed painting, Ecce Ancilla Domini, an angel tells a young Mary she will give birth to a child. The look on her face suggests a clairvoyant or hypnotic condition; white linens, bed clothes, lilies, and song bird, in the background of Mary's intense indigo-blue eyes, red pouty lips, red hair, and golden halo, give the painting a supernatural realism. It was Rossetti, who, in 1857, encouraged Morris to give up architecture and become a painter, and a "dreamer of age-old dreams".
Morris' association with Rossetti and the Pre-Raphaelites further encouraged his sense of a shamanic pre-existence, and reinforced the idea that handwork of sacred textiles, mosaics, and tapestries, embodied the mythic patterns of dream. He began to see how ancient art was not just an aesthetic, but the unconscious nature of design, and how the artistic mind manifests itself in the love of handwork, through the power of dream.
By 1860, the industrial revolution that made England wealthy and powerful also created social upheaval. Men and women were required to work long hours in mills, which ran twenty-four hours a day. The coal powered steam engines and smokestacks of steel factories, kerosene refineries, distilleries, cotton mills, and canneries, were creating ecological devastation.
Morris was working on a cycle of epic poetry titled The Earthly Paradise:
Forget six counties overhung with smoke,
Forget the snorting steam and piston stroke,
Forget the spreading of the hideous town;
Think rather of the pack-horse on the down…
And treasured scanty spice from some far sea,
Florence gold cloth, and Ypres napery,
And cloth of Bruges, and hogsheads of Guienne...
(From The Earthly Paradise –William Morris, 1863)
Ruskin's advice was to "go to Nature in all singleness of heart, and walk with her laboriously and trustingly, having no other thought but how best to penetrate her meaning…" Morris' counterbalance to the power looms and cotton gins, were visions of Flora, where, through poetry and dreams, he found the presence of nature in handwork.
Morris was a prolific reader and student of art, culture, and history. He was an almost daily visitor to The Museum of Manufactures (Victoria and Albert Museum), which was created out of the Great Exhibition, and had the largest collection of ancient art objects, beads, jewelry, ceramics, glass, textiles, Medieval costumes, silver, ironwork, furniture, South Asia prints, Japanese artworks, Chinese jade, Islamic gold, and Celtic illuminated manuscripts, in the world.
After visiting the weavers of Aubusson, France, Morris unraveled an ancient tapestry, thread on thread, warp and weft, and taught himself weaving. He had a high-warp hand-loom built in his bedroom and began designing tapestries such as Woodpecker and Tree of Life that integrated textural impressions, natural patterns, rhythmic waves, mosaics, and splashes of colored thread.
In a swirl of raw psychic energy, Morris threw himself into art, studying Ukiyo-e prints and Hokusai woodcuts, Hiroshige and Utamaro paintings, Japanese kimonos, woodblock wallpaper, silk folding screens, 15th century French tapestries, Italian Renaissance gold work, icons, frescoes, ethnographic and sacred textiles, ceramic mosaics, lace making, embroidery, needlework, dyeing, fabric weaving, rug looming, stained glass, metalwork, and furniture making.
The first workshop to actually practice the ideals of the Arts and Crafts movement, was Morris, Marshall, Faulkner, and Company, founded by Morris, along with the painters Ford Madox Brown and Edward Burne-Jones, and architect Philip Webb.
The workshop was an artisan collaborative that was devoted to the spiritual character of medieval art, luminous color, careful detail, romantic symbolism, devotion to nature, and the rejection of conventional, mechanical methods of composition. Morris and his associates supplied designs, and artisans produced the jewelry, furniture, wallpaper, fabric, metalwork, textiles, and books.
At the same time, Morris was writing The Defense of Guenevere and Other Poems, studying mythology, botanical drawing, and indigenous plants, printing books on handmade paper with a hand-press, and translating The Aeneids of Virgil.
Morris' poetry writing was folded into his handwork, and gave it a vision that included a collection of maidens, goddesses, spirit-kings, and Celtic shamans, which he could evoke in his quest to rediscover the ancient connection of nature and design.
His visualization of Flora in his poetry was of a magnificent woman who was partly human and partly spirit, a goddess of abundance and well-being whose handwork revealed the beauty of natural patterns and flowers:
I am the handmaid of the earth,
I broider fair her glorious gown,
And deck her on her days of mirth
With many a garland of renown.
And while Earth's little ones are fain
And play about the Mother's hem
I scatter every gift I gain
From sun and wind to gladden them.
(Flora -William Morris, 1884)
In 1885, Morris collaborated with Edward Burne-Jones on an intricately patterned and carefully detailed tapestry called Flora. He portrays the goddess scattering bluebell, daffodil, and lily petals, affectionately interlaced within an intricate Mille Fleurs design of pink roses, red peonies, and pheasants, in natural pigmentation and tone-on-tone color layering.
Flora is barefoot, in an elegant, flowing garment, a blue-leaf garland in her hair, surrounded by mossy greens, autumn golds, ruddy madder reds, and dark indigo blues, colors that might be found in an ancient English countryside.
It was the vision of Flora, which embodied his dreams, and the love of beautiful handwork and meaningful labor, which gave them reality. He said, "Beauty, which is what is meant by art, using the word in its widest sense, is, I contend, no mere accident to human life, which people can take or leave as they choose, but a positive necessity of life."
The beauty of Flora represented the relationship of the mythical patterns of nature, design, and dream, the layers of which could be reassembled through recurring, stylized detail and traditional handwork. For him, "The true secret of happiness lies in taking a genuine interest in all the details of daily life", and this meant handwork.
The idea that handwork is the highest form of art was an ancient concept that seemed radically new in 1885. The promise of Neoclassical French and Biedermeier Style, which relied on traditional artisanship, had faded swiftly when industrial mechanization made it possible to manufacture cheap imitations to satisfy the production demand.
However, the visions of Flora became a reality through handwork, because above all, Morris was an uncompromising worker, who would not accept less than highly-skilled handwork and natural materials, and who equated handwork and workshop design with fine art, and who believed, like Ruskin, that architects, painters, weavers, and jewelry designers, should revolt against industrialism, boring architecture, and mass-produced goods.
While working on his complete work of art, called the Red House project –"to restore the dignity of art to the ordinary household decoration" –Morris designed a house and gardens with complete symmetry and beauty of form. The lay-out centered on metrical proportions, within a naturally enclosed space, where geometric lines are juxtaposed with alternating, curving, natural shapes, subtle nuances, and colors.
The gardens at Red House were organized around a medieval design of square flowerbeds that were planted in jasmine, and lavender, enclosed by rose-covered wattle trellises and surrounded with apple, pear, and quince trees. The design showcased Morris' belief that only unpretentious, simple grace, and handwork, would save society from industrialization.
The architecture, furniture, paintings, mantels, windows, textiles, sculptures, cabinetwork, and landscaping of Red House, all fitted together with such proportion and continuity that nothing could be added, subtracted, or altered, but for the worse.
In the course of working on the Red House project, Morris developed his theme that design begins in nature, and there is no dividing line between the useful and the artistic: "To apply art to useful wares, in short, is not frivolity, but a part of the serious business of life."
The first wallpaper Morris designed was inspired by the garden at Red House and an unusual medieval woodcut. It had detailed rose motifs, an olive on gray-blue trellis with pink roses and thorns, and olive-gray, black, and pink bluebirds. It was hand block printed in distemper colors on handmade paper.
Morris was reaching for a complexity of design that was folded into handwork, where the underlying physical and spiritual layers of an ancient mythological art could be unraveled and reassembled in his dreams. He was an artistic seer who understood that handwork embodies the patterns of dream, and that art becomes reality only through handwork.
His designs possess a dimension of high symbol associated with shamanism, mythology, chivalry, and ethnic art. Flora, goddess of flowers, was the mythical pattern-maker of his handwork, who embodied the entwinement of nature and dream.
Morris taught himself ancient arts and crafts, and understood their complex sense of sacred space. The elements of his designs were fashioned in rich colors and textures that focused on beauty, elegance, and the spirit of nature.
He loved careful, meticulous detail, sensuous colors, romance, medieval history, poetry, and mythology. He designed houses, gardens, wallpaper, and jewelry. He believed that art is created by the same means that nature uses to create itself, through the power of dream.
His life was a quest for the courage of King Arthur, the Celtic shaman, who repeatedly wins out over the posturing of his enemies, with unpretentious, simple grace, and love of nature; and for the beauty of Flora, the goddess who embodied his sensibilities toward nature as a sort of mythical reality, who was always in the spirit of nature.