Travel Essay | Aix-en-Provence

Wine and Earth in Provence

By Michael Jouët

December 2, 2008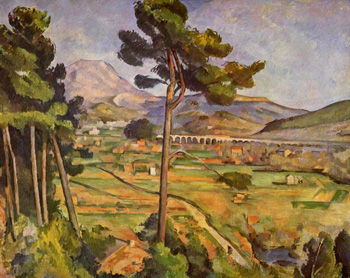 Mont Sainte-Victoire and the Viaduct of the Arc River Valley
I was having lunch with a friend recently at Le Caire, in the country near Aix-en-Provence. It was a warm afternoon and we were served outside on a shady veranda, enjoying a view of Montagne Sainte-Victoire and its surrounding white cliffs and limestone foothills.
The restaurant is built with stones quarried in the 12th century, and its character is medieval, quiet and appealing, as is the traditional rustic cuisine that is served, such as soupe au pistou, with eggplant, garlic, tomatoes, and olives on toast; short ribs with horseradish on butter noodles tossed in olive oil, parsley and blue cheese; and stewed rabbit with turnips and carrots.
We have been hiking on the trail to Sainte-Victoire since early morning, and stumbled onto this distinctive old place. I choose a 1987 Cairanne from a private label caveau. The slightly formal waiter sets out two glasses, opens the bottle, pours a small portion of an incredibly dark liquid into one of them, and the air fills with plum blossoms, ripe currants, licorice, and black figs.
The wine is stylish and graceful, and on the tongue feels like supple dark petals fallen off an ancient tree. From the veranda we watch a man plowing a field of black earth with a tractor, and up on the white chalky clifts toward Sainte-Victoire, scattered pink and yellow asphodels, wild white roses, gray cork oaks, and layers of red clay.
I slip off my walking shoes under the table, lean back, and watch the afternoon creep up some stone walls. Some children run down the street, then a girl on a scooter, a minibus with a few Sainte-Victoire sightseers, and a boy herding goats. From the kitchen there is a small bell ringing. The waiter brings goat cheese, olives, and hazelnuts. The half-filled glasses give the wine room to breathe.
A hundred years ago Cezanne walked up the steep path near the chemin de la Marguerite and set his easel at the high point of the cliffs to view Saint-Victoire and the yellow wheat fields, blue stone paths, pink, lavender, and red roofed villas and bastides below. The light and color of this place filled Cezanne with an intense vision, which inspired him, so that nothing seemed to bother him, not the cold morning wind, the buttons missing from his coat, nor the fact that very few understood what he was working on.
My friend and I enjoy talking to each other. The waiter asks just once if the wine is good, and does not intrude, even during long periods of silence; and for a while we lose track of time the way one loses the lyrics of an old familiar song. They just slip away.
On the path back toward the village, Saint-Victoire is lit up in the dying light as a breeze that seems unearthed from the fields evokes a complex weave of ancient minerals, sea corals, obsidians, slates, and dark clays. Through the umbrella pines, a slow wave of yellow moonlight rises above the hills, and hangs there, unmoving, against a canvas of emerald, buttercup, and fuschia.
This is what I wanted
The moon wraps Sainte-Victoire in wheatstraw and I feel wrapped in the love of all that is earthly, as if it were my own skin. Walking up the hill, we watch the sky turn completely red and the smoke of Aix rising over blossoming pear orchards, Roman ruins, farmyards, little Arabic courtyards with bright tiles and fine carpets.
In the shadow of a stone wall, the dark contour of a horse tosses its mane in the moonlight, and walks away on a path that never ends. This fiery moment in the transparency of dusk vanishes into the ruins of the earth, and in Provence, it never ends. And, perhaps better than in most places, it is understood.
Here on these chalky clifts, Cezanne put his brush to canvas and made the sun new again, bathed it in smoky emeralds, mineral blues, and harvest reds. Not far away, with the earth folded into his arms, Cezanne rests now in the mercy of time.
And not far from there, in the village of Vauvenargues, Picasso is buried in his garden, on a hill outside the remote stone villa where he spent his last years, surrounded by stone cottages that are furnished with handworked Flemish tapestries, photos of great-grandparents starched and unsmiling, silver candelabra, linens ironed and folded into lavender-perfumed drawers, and wine glasses that have kissed dark petals of eternity. Whatever time it may be, from the first moment on, here in Provence, time never ends, which is the secret of life.