Thematic Essay | Impressionism

Elaborations of the Spirit

By August Finch

February 25, 2009

The Impressionists painted farm girls, shepherdesses, mothers and daughters, depicting them dancing, cooking, brushing their hair, working, sitting at tables...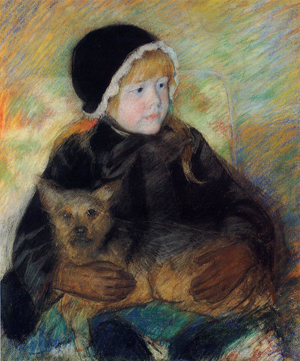 Elsie Casset Holding a Big Dog -Mary Cassatt (1880)
The Impressionist engagement of nature concurred with the primal human experience of nature, which depended on submitting life to both the measured and unexpected patterns of nature. The artistic sensibility toward color and light interpreted patterns as a sort of mythical reality which elaborated the human spirit.
With the canvas brought out into the open air, the engagement of nature involved a continuous state of becoming conscious of different viewpoints of light –its subtle shapes, overlapping layers, and translucent folds of color.
Impressionists used color as the vessel of light, their palette éclairée created a dreamlike, textural visuality –rhythmical, floral waves, mosaics, and splashes of vivid golds, burnt reds, and shadowy blues. Their figural, architectural, and natural details responded to the way they thought light and vision actually interacted, and art was more allegorical, than realistic, and created by the same means that nature uses itself.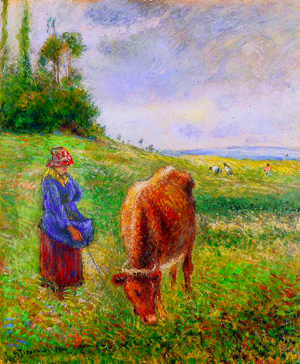 Cowherd, Pontoise -Camille Pissarro (1882)
The relationship of Impressionism to color and light increased the recognition that the symbolic intricacies of dreams, memories, and thoughts were complimentary levels of perception –not separate things –that transitioned between what was seen and not seen, and corresponded on a symbolic level to the idea that Impressionism, like nature, was art without end, and mirrored the patterns of nature.
The original core group of Impressionists, Édouard Manet, Camille Pissarro, Pierre August Renoir, Claude Monet, and Mary Cassatt, believed they were unchaining art from unnatural composition by painting in loose, open brushstrokes, where colors and forms completed and defined each other in a natural, unstructured way. They believed the instincts for art were innate, and more a result of a spiritual interpretation of imagery, abstract form, and color, than a result of training or discipline.
They understood that art had its physical and symbolic layers, which included dreams and memories, but deliberately avoided symbolism, and any meaning that was not personal and visual, suggesting that the visual images surrounding everyday consciousness were in fact the dreamlike basis of reality, and capable of attaching meaning to art as a continuous, unseen, constantly changing reality, the way the mind perceives color.
The Impressionists painted farm girls, shepherdesses, mothers and daughters, depicting them dancing, cooking, brushing their hair, working, sitting at tables, sleeping, gathering flowers –the things they actually did in every day –which gave the art a sense of dramatic and spontaneous association with the patterns of nature.
The Impressionist engagement of nature reflected the original clarity of primal human experience when it was inseparable from the never-ending cycles of earth, clouds, wind, water –patterns that are beyond human change.
The ancient patterns of nature are inexhaustible and beautiful. "Everything is beautiful, all that matters is to be able to interpret." (Camille Pissarro, 1891) The interpretation of nature is a clear distinguishing factor of humanity. The canvas in the open air reminds us that the patterns of nature are elaborations of the human spirit.