Travel Essay | Deia

The Far House of Graves

By Michael Jouët

April 12, 2010

In the blending of stone and shadow, sunlight blurs pink and blue villas and rowan-red roofs, bathing Deià in a supernatural light, its twisting pathways and olive groves lit-up...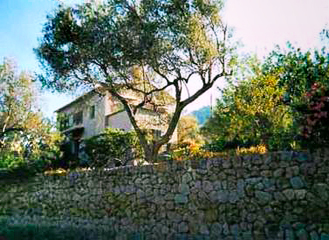 Robert Graves' House
Deià is one of the oldest, remotest, and most beautiful villages in Spain, una pequeña aldea of cafés, hotels, villas, fincas, olive trees, and vineyards terraced into stony hillsides, between sea and mountains on the Mediterranean island of Mallorca.
I have been walking up a steep, dusty hillside at its northern edge, on a path eventually leading to Cala Deià, or "the cove", and to Ca n'Alluny, "The Far House", which English poet and novelist Robert Graves built in 1932.
From up here, poised above rocky ledges of a jade blue sea and curves of white sand slipping beneath its underpinnings, Deià is high-sided and spectacular, a medieval village built on top of more ancient villages, a tough and alluring labyrinth of remote caves and natural springs, where a prehistoric religious culture practiced white magic.
Deià's divine weather, the most consistent and mildest in Europe, has attracted writers, painters, and musicians, since the late 1800s, including George Sand,Frédéric Chopin, Jules Verne, D.H. Lawrence, Anaïs Nin, and Gustave Doré.
In the blending of stone and shadow, sunlight blurs pink and blue villas and rowan-red roofs, bathing Deià in a supernatural light, its twisting pathways and olive groves lit-up in layers of color, framed by a deep blue sky and a pantheon of clouds.
The rose-colored two-story house was built with stones, a half mile from the village, on the coast, where Graves settled down to write I, Claudius and The White Goddess, a short walking distance from the wine-bar where Graves drank and the cove where he swam.
Graves was Orson Welles' favorite poet. During Welles' European exile, he visited Graves in Deià, and found it to be the most beautiful village in Mallorca, where time "was a shadow as in a dream that sleeps and wakening nothing is changed".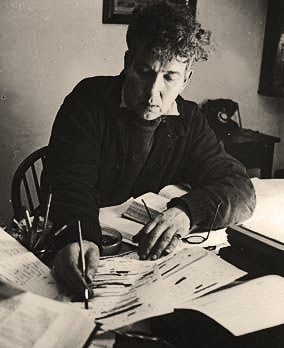 Robert Graves
Phoenician traders, Carthaginian explorers, and Roman armies left interweaving legacies –irrigation canals, merchant houses, castles, mosaics; and the Moors terraced stony hillsides beneath the Serra de Tramuntana and planted wine grapes, which, like the stone they grow in, outlast everything.
Along the narrow, winding path, a crumbling Moorish finca, its stone walls covered in creeping bougainvillea and wild violets, its mosaic entrance lined with olive, fig, and lemon trees. In the hills above, blue oaks, beech and pine, that come dusk, will be enveloped in mist and moonlight.
From the roof of Graves' house, the view out to sea, where clouds arrive on warm Mediterranean winds, produces a slowed-down, altered consciousness that makes you want to sit still, and think of Chopin and Sand, to wonder and marvel at the power of a simple love poem, to reflect on life in times gone by –its clouds scudding across the sky.
As I walk down a series of switchbacks toward the car on the road below, the house of Graves sinks back into the white stone it rises from and vanishes perfectly into the landscape –mist rolling in, warm wind getting chill, and lights coming on in Deià.
Back at the hotel, I enjoy a glass of champagne at the poolside bar, while a woman performs a cavatina –a slow Spanish incantation to lost love. When it's over, she gets up and says nothing –just waves her silk scarf and strolls away.
Beyond the pool there is a garden, and moonlight mixing its gray creams and stony plums against a palette of rising mist. The air is sweet with blossoms and vines –wisteria and roses –twisting around old stone columns and wrought-iron grilles.
Severely wounded in World War I and left for dead, traumatized by war and a failed marriage, Graves rejected Victorian England, and came here eighty years ago to dedicate himself to "the language of poetic myth…in honor of the Moon goddess…the language of true poetry –'true' in the…sense of the 'unimprovable original, not a synthetic substitute'".
In Deià, Graves lived simply; he swam in the Mediterranean at dawn, sired eight children, smoked little Dutch cigars, grew carrots and tomatoes in his garden, drank wine, wrote 125 books, and lived to be 90.
Standing here in the moonlight, encircled by its ancient color and shape, I think of some lines from a Graves' poem, The Cruel Moon:
Nurse says the Moon can drive you mad?
No, that's a silly story, lad!
Though she be angry, though she would
Destroy all England if she could
Yet think, what damage can she do
Hanging there so far from you?
Don't heed what frightened nurses say:
Moons hang much too far away.
Indeed, I think, Graves, buried next to his wife Beryl in the churchyard on the hill there above his house –not a fine gravestone, but only his name written in concrete by hand –in the darkness and silence of Deià, lying in the old stony ground, might add: "If I close my eyes / The moon is on my eyelids / Even if the moon seems dark / I'm still in paradise. / In her dreams / Which never sleep."